The Waterloo Region Nurse Practitioner Clinic is accepting patients who do not currently have a regular healthcare provider in the region.
Please Note: Wait times can be up to 9 months at our Kitchener and Breslau sites. Please be patient, we will contact you as soon as we can.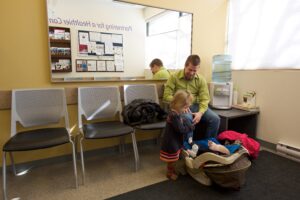 If you currently do not have a primary health care provider, please submit an intake application form. The form can be printed and completed then faxed, scanned and emailed, or dropped off at one of our clinics. You may also drop by and fill out the form at one of our locations. Once the form has been submitted we will assess your information and contact you.
Is the Nurse Practitioner Clinic a Walk-In Clinic?
No, the Waterloo Region Nurse Practitioners Led Clinic is not a walk-in clinic. We only provide care to patients who are registered with our clinic.
Will I have the same Nurse Practitioner for my visits?
Yes, once you become a patient you will be assigned to a specific nurse practitioner and will see them on your subsequent visits. For same day appointments, if your Nurse Practitioner is not available, someone else will be available to see you.
Who is part of the Waterloo Region Nurse Practitioner Led Clinic team?
Our inter-professional team includes Nurse Practitioners, Registered Practical Nurses, Pharmacists, Social Workers and Physician Consultants. The team works collaboratively to provide high quality primary health care to our patients.
Do you have any appointments after regular work hours?
Yes. We offer evening appointments on Tuesday and Thursday